Masks
Facemasks can be worn to help protect those around you and should be worn by people who are sick.
Masks can have a role to play in preventing the spread of COVID-19, especially for healthcare providers and for people that have COVID-19. This is because masks act as a barrier and help stop the spread of droplets from a person's mouth and nose when talking, laughing, yelling, singing, coughing, or sneezing.
Wearing a mask should be combined with other important preventative measures such as frequent
hand washing
and
physical distancing
. Using only a mask is not enough to prevent the spread of COVID-19.
Types of masks
Face masks: How are they different - CLICK TO ENLARGE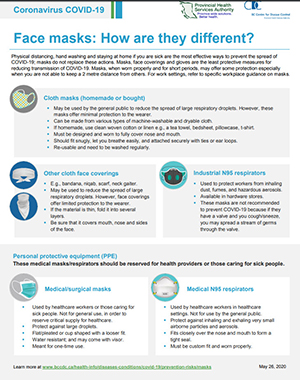 Medical/surgical masks should be reserved for healthcare workers and people caring directly for a person with COVID-19.
If you are healthy, but would like to wear a mask, homemade or cloth masks may be used. If you are making a mask, here is some information to help make an effective mask:


Homemade masks can be made from different materials, but some materials are better than others. Use clean 100% cotton, polyester or a cotton-polyester blend. For example, masks could be made from tea towels, sheets, t-shirts or pillowcases.
Homemade masks should have at least three layers to make sure that droplets don't pass through the fabric. The most important thing is having these three layers with a mask that fits well. An example of a mask with three layers could include:

an inner layer that is in contact with the person's face, be made of absorbent material (e.g. cotton or cotton blend)
a middle layer of non-absorbent or absorbent material (polyester or cotton)
If you are caring for someone who is sick and cannot purchase surgical/medical masks and are using a homemade mask, the an outer layer of the mask should be made of material that does not easily absorb liquid (e.g. polyester, polypropylene, or their blends). Non-absorbent material could help limit outside droplets from soaking into the mask, but it is not guaranteed.
It is not recommended to coat the outside of a mask with substances like wax to create a barrier as this can make it more difficult to breathe and air is more likely to escape out of the sides of the mask.
A properly fitted mask sits closely over the mouth, nose, cheeks and chin of the person wearing it. The mask will be less effective if the shape or the material has gaps in it because it will allow droplets to pass through.


It is important to make sure the mask can be held in place comfortably with ties or ear loops to reduce the need to adjust the mask. If it is not comfortable, you won't want to wear it consistently.
Masks should only be used by one person and should never be shared.
Please see the
How to wear a facemask
poster for information on how to properly put on and take off a face mask or watch the video:
Cleaning and disposing of masks
Medical/surgical masks should not be cleaned and reused because putting medical/surgical masks in the washing machine may damage the protective layers, reducing their effectiveness. If you are sick or caring for someone who is sick, masks need to be changed frequently. All masks should be changed if wet or visibly soiled; a wet mask should not be used for an extended period of time.
To dispose of masks after use:


Wash your hands with soap and water before taking off your mask.
Dispose of used masks in a wastebasket lined with the plastic bag.
After taking off your mask, wash your hands again with soap and water before touching your face or doing anything else.
When emptying wastebaskets, take care to not touch used masks or tissues with your hands. All waste can go into regular garbage bins.
Clean your hands with soap and water after emptying the wastebasket.
Homemade or cloth masks should be cleaned and changed often:
To clean a homemade cloth mask, wash it using the directions on the original material (for example, if the mask was made from t-shirt material, follow the washing instructions on the t-shirt tag) but in general, warmer water is better. Dry the mask completely (in the dryer using a warm/hot setting if possible).
Do not shake dirty masks to minimize spreading germs and particles through the air. If dirty cloth masks have been in contact with someone who is sick they can still be washed with other people's laundry.
Any damage, fabric break down, or change in fit will reduce the already limited protection of cloth masks.